The Belize Amateur Radio Club shack (V31HQ) has burned down. Nobody was injured, however Andre V31DL (owner of the shack) has lost ALL equipment.
If you would like to help the rebuilding of V31HQ please donate via the Donate button on the BARC website at https://barc.bz or go to https://gogetfunding.com/v31hq-burned-down/ .
Thanks for your generous help.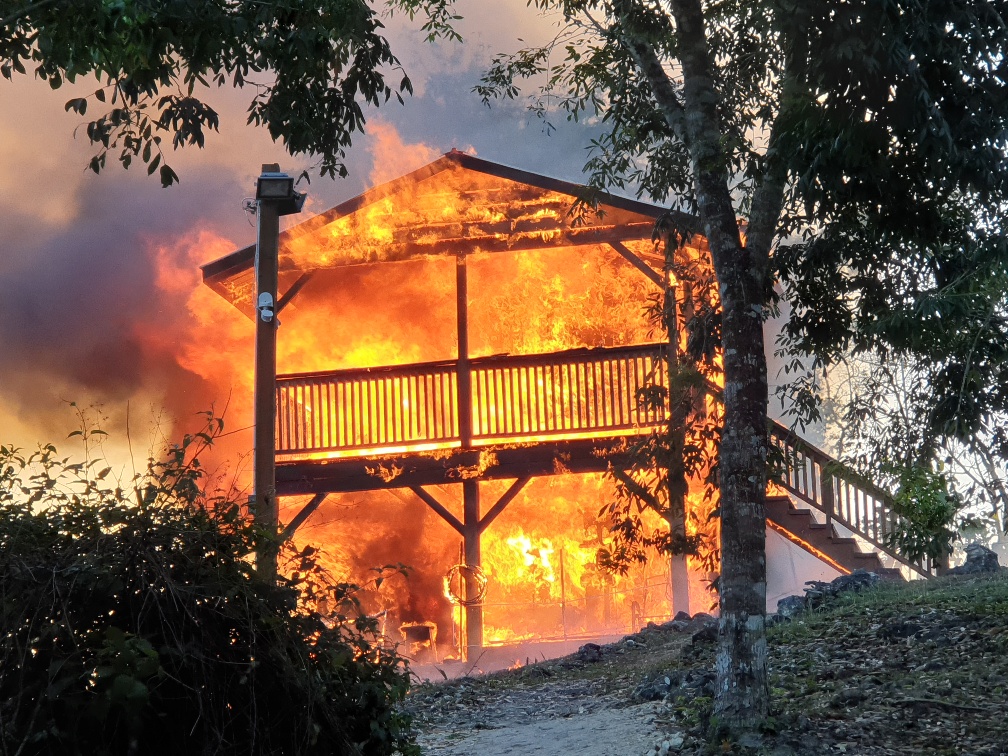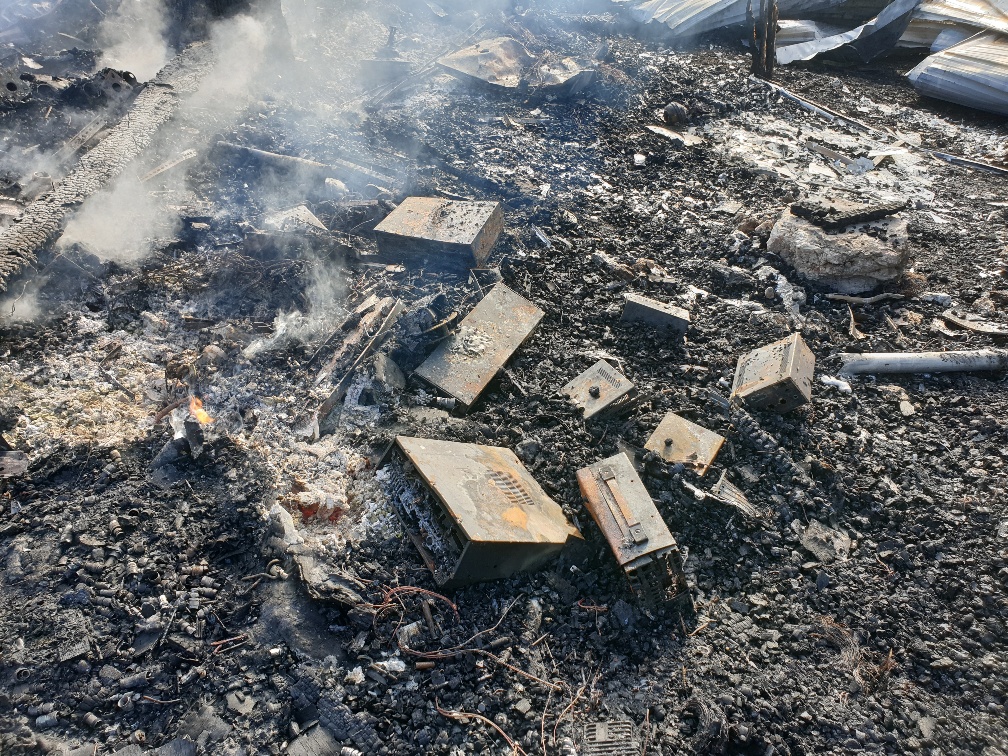 UPDATE APRIL 2023:
Recently was the third anniversary of the day of the fire. In the beginning after the disaster, the shock was great and it took us many months to think about a new beginning. Finally, after a year, we started planning for the new Shack. The loss of the old shack also destroyed our solar system, backup power, computers, and all of our inventory of goods and spare parts. The total damage was $250000 and was not insured.
Since last year, the shack, consisting of two 40-foot containers, has been built and the interior work completed. At the same time, we began purchasing equipment. The last few months have been used to buy power amplifiers, and we have had particularly bad luck with one power amplifier, as it has gone faulty three times. We have now sent it back to Europe to the manufacturer. The two Flexradios 6400 were also defective in the meantime and had to be sent to the USA for repair. One was a new purchase and was repaired under warranty, only shipping charges and a customs fee were incurred. The second Flex 6400 was a donation and cost $1500 to repair. This year we purchased a FlexTuner and a Flex Antenna Switch 8-2. Next week we will set it up and test it with the other PA. We still have a lot of work to do in the antenna area. And – hard to believe – while we were still setting up, our laptop died and had to be replaced. Every dollar that comes in through funding helps us with ongoing construction. Unfortunately, there are not too many active or younger ham radio operators here in Belize to help. Because of COVID-19, there was a very long shutdown with closed borders. Since last summer, "normalcy" is slowly returning.
We appreciate every donor and also every non-donor who comes to visit us in Belize.
Many thanks to:
Iain Haywood, G4SGX
Marc Missalla, V31MA
Luca Babolin, IK2PL
Hans Schmige, DJ6ZM
Nathan Nuttall, ??
Greg Williams, K4HSM
Mario Kricheldorf, DJ8NU
Francesco D'ALO', IK0FUX
Mario Kricheldorf, DJ8NU
Michael Skurka, K5MSK
Dervin Beldman, PD9DX
Mario Kricheldorf, DJ8NU
Josep Ma, Gené Torelló, EA3AKY
Donald Daze, N5DD/V31AD
Terry Good, W3NPS
Robert Haddow, VE3RXH
Thomas Freimann, DJ6TF
Martin Schmiedel, DM4IM/V31IM
Gerd Sapper, DJ6TFDJ4KW/V31YN DL9GG/V31GW
Robert Busch, DL7VOA
James Placilla, V31TA/W2JHP
Bodo Fritsche, DF8DX
Steffen Ackermann, DL3JPN
Horst Hartmann, DL4FAP
Bernd Novotny, DL3GCB
Ludwig Hechler, DL6FBR
Dr, Volker Strecke, DL8JDX
Erwin Grafe, DH9DX
Gerd Uhlig, DL7VOG
Wolfgang Rebling, DM2AUJ
Michael Schneider, DH0MB
G Robert Brandon, V31AT/K5PI
Plummer Health & Wellness, V31KC
Bradford Williams, KH6OWT
Silas Hessler, KL3ZJ
Lynn Grant, V31LK/N8AF
Bernhard Pohle, ??
John Jones, KD2RKA
Aldo Cleto Pellicciari, UI4GPY
James Fitzpatrick, V31WI/WI9WI
Oscar Antonini, IV3BCM
Jonathan Shapiro, W1DYN
Jürgen Wulf, ??
Ronny Mang, DM2RM
JAPMedia, HB9HIT
Richard Haendel, W3ACO
Joachim Frese, DK4CF
Willy De Paepe, ON7TW
Carl Evans, K6OHI
Neil McAlister, VA3NH
Zygmunt Szot, M0SZL
Terry Dansey, G0BIX
Alejandro Herrero, ??
Paul Keighley, G0KPH
Enrico Schuerrer, OE1EQW
William Meacham, KP4SX
Joachim Hoffmann, DL7APK
Pavol Andil, ??
Piotr Piotrowski, SV3RNJ
Tommy LeBoeuf, K4VTE
Arthur Phillips, NN7A/V31JZ
Philip Postma, ??
David Harvey, ??
Michael Cutler, ??
Andrew Roper, KC1PGF
ROSSEND VILA, EA3EQT
Greg Bushman, ??
OLEKSANDR TKACHENKO, KN6BAZ
Richard Palmer, VE2CH
Rolf Jakob, ??
Aldo Morales Acevedo, CE3MRD
Frank Mooney, KI7MJU
Martin Engel, ??
Clifton Young, AG5WE
Richard Hoye, ??
David Davidov, LZ5DI
Q-Sky.com, ??
Scott Prosser, ??
Robert A. Barrow, K3IW
Robert Snyder, ??
Mark Shaum, K9TR
Stefan Reiss, ??
David Lewis, K8DL
Daniele Livieri, IK3BSM
Brian Page, N4TRB
Horst Hoferichter, DG2FA
Michael Born, W9XJT
Hikita Mamoru, JF2RYX
Tillotson Knives, K5DRT
David Blair, KE8PJT
Kim Hübel, DG9VH
Michiro Tanaka, JA0EBV
Michael Traut, DM1MT
Jim Erbe, W6NIF
Jürgen Keller, DL4YCD
Jens Geisel, HB9FPC
Markus Marxer, HB0HF
Egon Rothenberger, HB0RER
Mathew Christopher Amador, N6AVI
E&O Computer, ??
Peter Schmeiduch, DL6LZM
Harald Schlesinger, DL7VSN
Iven Müller, DL6LIM
Burton Fischel, W9VOB
Dragan Jemelka, OK8DJ
Tom Thomas, W7TCT
David Noble, VK4KSY
Henry Borawski, K2HJB
Frank Schien, DL4DW
Thomas E Abraham, AD3C
Francis Louis Martinez, ZB3Y
Howard Kunkel, WA2AGA
Christopher W Stevens, KB3CAP
Wilfried Löhnert, DL4GBA
Jens Knobloch, DG0OCY??
Steve Anness, KJ5T
George Oswald, AA7MO
Скрынникова Раиса, R1BIG
Jens Riebold, DG1OAM
Marcus Grampp, DL3NCI
Bernd Hänselmann, DJ6DC
Martin Meyer, HB9BGV
Bert Bickelmann, DF8VO
Aad Van der Kooij, PD0AK
Andreas Wolf, DH8WR
Chris White, WX7V
Jürgen Pfeifer, DG1NPJ
Scotty Rathjen, W7SW
Francisco Pajuelo, IU3PMA
John Fisher, ??
Dan Spisak, KK6FTD
Ernest Atchison, WA5PQL
Kevin Johnson, N0KWJ
Joachim Karthaus, VA3EOJ
Jensen Farm & Studio, K7SEE
Henning Thomsen, OZ1JXY
Chris Skelcher, G3YHF
Mike Field, M0MDS
Frederick Reed, ??
TIMOTHY P DESMOND, K3LSU
Daniel Montaigne, VK4AFU
Daphne Bottani, HB9FAX
Robert Schaps, WB2NVR
James Fields, W4JVF
Paul Marundee, K6FAT
Kenneth Pierce Jr, ??
Alf Blomqvist, ??
Günter Henning, DL2AYK/V31YK
Oliver Auel, DL3LX
Philipp Springer, V31PS
Thomas Lidholm, SM6PZI
Pekka Pyy, OH3PYY
Keiaki Matsumoto, JA5EEU
Peter Uhren, DM5DX
Samuel P Brutcher, KN4SYS?
Juan Carlos Monteagudo, CO2WZ
Thomas Fuchs, DO5TF
Richard E Kittinger, KO4FPJ
Kenneth Stoner, KJ7ATK
Kevin Duffy, WQ9F
Tony Yamin, KF6JS
Steve Jones, G0FMZ
Thomas Niess, DD7ZD
Carlo Poggio, IK1JMJ
Rainer Gunkel, DO2AO
Andreas Hirsch, DH4NBB
OHTA Toshihiko, JR2XJS
Thomas Marongelli, N2HLJ
Christopher Clarke, G3SQU
JOSE G.ALVES Silva, CU3AN
Gerard van Bommel, PA0ADG
David Inger, K6SBA
Werner Reinecke, DK6AR
Steven Bachhuber, K9SJB
Richard Clemens, KB8AOB
Arthur Paton, N9AEP
Felice Parpiglia, IZ8FFA
Jacques Corbu, F1VEV
Tommy LeBoeuf, K4VTE
Thorsten Prutz, K5TCP
John Martin, MI0UFT
Aron Insinga, W1AKI
Vic Ulfik, G4YIP
Colin Bainbridge, MW3FLI
Angelo Augugliaro, IU1HGN
Roger Baines, G3YBO
Hans-Helmut Hemmerling, DL1HHH
Adri Snijder, PE1OBZ
Sjoerd Auke Dijkstra, PA1CT
Tony Rafaat, VA6TNY
Oliver Hartmann, DJ5QW
Anthonie Gijzel, NL8992 SWL
James Puckett, ??
S Hose, KD1DT
Horst Koschorreck, DM2FDO
Rand Reynard, W0RDR
Piotr Staniek, SP9TPZ
Richard Lindner, W0RIF
WILL SILVA, PY1FE
David George Johnson, P.E., Esq., WB4JTT
Alessandro Bellini, IZ2HCF
Masumi Nakade, JA3AVO
Matthias Ziegler, DL7VRG
Edward Devinney, KK4WXO
Brad J Johnson, KO6KL
Viktor Shumeiko , UN7TT
Giovanni Francia, ??
Holger Genz, DH3RN
robert stoll, KG5ZMQ
Klaas Kouwen, VA3ERW
Filipe Gomes, M0IVC
José Manuel Paredes Gil, EA5WB
Michael Flowers, K6MKF
Steven Mair, AJ6TE
Raymond Ulvenes, KB9GGR
SUZUKI AKITOSHI, JA1VRU
JOSE MIRANDA, KJ2AM
Andie Leslie, K0PHY
Robert McLeod, W2RWM
Yechiel Amir, 4X6YA
John Vlahos, K7JGV
Nicolas Choin, F4HCS
Dennis Pugh, K7VAY
Peter Salk, DL1GPS
Stefan Reiss, DG1SR
Waldemar Röttger, EA5/DB1WR
Mirage Engineering, KF7NOP
Aldo-Ricardo Rossi, HB9EXQ
Tanahashi Rikuro, 7K1MEZ
Neil R Foster, N4FN
Thomas Ehrhart, DF7PZ
SANO NOBUHIRO, JA2KAK
Mike Deckman, ??
Mutalip Mehmed, HB9EKP
Wolfgang Bothur, DL2BWO
Kunihiko Tachibana, JA5SEY
Duncan Lawrie, ??
Roberto Farinetti, IW1AZF
Kouichi Tsuji, JA3IBU
Gerrit Operhalsky, DL1OPI
David Townsend,
Martin Heinecke, DD6MH
Rolf Treunowski, DH2RTW
Ray Mustafa, WA2NBG
Daniel Simon, WA6EJW
Eric McDonald, KE8NPY
James Wilson,
Myron Getman, KB2DSR
SETO HIROSHI, JA1PVX
Gustav Schmidt, W9SSN
Jeremy Power, G1WVK
Miquel Sesar, EB3EIL
Jürgen Dutine, DL8PA
Tami Shaw, KD9LHE
Roberto Zaccaro, IK1BXQ
Thomas Wieland, DF9TW
Dennis C Tune, KI5UNH
Dirk Basting, N4AN
Herman Frank, 5P4Z
Giora Tamir, K6TXT
James Morgart, WZ9Q
Don Bedard, VA6BED
Mike, KC3NMR
Judd West, VK3STL
Andy Smith, G7FWE
Rudolf Grossmann, DL8DBR
Derek Bate, G4XEE
Giovanni Oddone, IU1QEA
James Ellenberger, W3JCE
J White, G8DX
Karl-Heinz Marx, DH3KM
AXEL FRITSCHE, DL4AXL
S Joseph Levine, W8JRK
JANUSZ PASEK, SP8KDZ
Juan Carlos Monteagudo, WZ4JCM
Henrik Benjamin Rasmussen, WA4BAN
Andre Rupprich, DL3EBS
Marc Dubosc, F6IQE
William McCullough, KY4LL
JURE VRANICAR, S57XX Beau Gunderson, N7YHF
Mihaly Vago,
Murray MacDonnell,
D Keith Lowther,
Don Gettys,
Jeffrey Sonstein, WA2RRB
William Thompson,
Roland Sobotta ,
Francisco E Elizalde,
Kristian Mahrhold, DL8KM
Thomas Amoroso,
Richard Hilde,
Dan Spisak,
John Swartz, AF4ZE
Joseph DiBiase,
David Inger,
Yoshihiro Uchida, JF6KKC
Tanahashi Rikuro, JH5FVT
David Conlee, WV5A
Steven Good,
David Gomez, EA1HLH
Diego Castiñeira Rey, EA1FPX, EA1FQQ, EA1IAM
Ole Jakobsen, VE7XOJ
Bruce Light, VE7BSM
Scott Scheirman, KR7D
藤野 岩男, JH1BNC
SAKUMA TAKASHI, JR1SLU
Donald Lynch, W4ZYT
GIUSEPPE MARULLO, IW2JWW
Palle Dall Larsen, OZ1LHK
Gastone Buracci, IT9FXP
Rupert Mohr, DL3NO
BlackStar Networks,
Motoshi Hoshuni , JK1LUY
Mike Wrzalik, DM4KW
Robert Dingfelder, N4CPT
NAGAMATSU YOSHINOBU, JE6WUG
Wolfgang Trieb, DL3MR
Germain Clement, LX1GQ
Alex Hallenius, N7ADH
Thomas Orfert, DH1TO
Alexandru Nisenboim, ER1SN
Douglas Seyler, W9LCQ/V31WB
orders.carnaroli@gmail.com, N5MEX/XE2N
Thomas PP Moser, DO2THM
DONA' MARIANO, IZ3ZTZ
Geoff Taurins , VK3GE
Yves Kuederli, HB9HSG
Martin Schmid, DL7BCA
Victor Rivera, WP4QZH
Joseph Terry, W8QH/V31XE
John WNineTNC Glazko, W9TNC
Paul McEntagart, EI3FBB
Edward Sherlock, K5ESS
Burton Fischel, W9VOB
Robert Epp, KF0MEZ
Yusuke Kuze, 7K2QOX
Tobias Senkel , DO2TSG
Xavier Segura i Tallo , EA3CC
Emberger Peter, DO1NIC
Iwata Shizuka, JA1MUX
Ad Dieleman, PA8L
Chikara Aoyama, JK7KBB
James Grant, KB4YKC
Helge Bertram,
Franco Steffe , IV3HQK
Luca Ferrari, IK3AES
Ian Woller, M0NMQ
Glenn Lowery, K2FF
Noel Lopez, NR5R
Patrick Martin, A65D
Pedro Ferreira, CT1FCX
Marco Lando, IK2TDM
Michael Collins , NI2E
Willem van Gaalen, PA0WJG
James Darrough , KI7AY
James Huhta, AA4MD/V31KD